SKU:7DRCB00C1A : [Disclaimer] Not compatible with QX30
Regular price
$249.00
Sale price
$224.00
Unit price
per
Sale
Sold out
The UGD521 is a 1-channel font-facing type dashcam system capable of 2K (2560x1440p) recording. This dashcam is a dedicated model for INFINITI vehicles in UNAVI's expanding product line but also can use on other vehicles. (Exclude Infiniti dedicated parts)
Unavi 1 channel dashcam for INFINITI exclusive has use the OEM power cable of the rear-view mirror through our Infiniti power connector.

Highlights:

Included dedicated power cable for INFINITI
Easy & fast installation : Using dedicated power connector for INFINITI's OEM Rear-veiw mirror
Record at 2K, Quad HD (2560 x 1440p) with the dash camera
1 channel dash cam system : Front only
Wireless access to dash cam recordings on the app, available for Android and iOS
GPS module available: Track location and speed on recordings
Lane Departure Warning and Front Vehicle Departure Warning are two driver awareness warnings, enabled with the optional GPS module
32 GB micro SD card included
Compatible smartphone spec:

iPhone: iPhone 8 or above

Android phone: Android OS 8.0 or above
The UGD521 is a 1-channel dash cam system capable of 2K, Quad HD (2560x1440p) camera recording. This dashcam system is the next generation model in UNAVI's expanding product line. Easily upload your dash cam videos to social media with the UNAVI App, compatible with Android and iOS devices.

The dashcam is equipped with two ADAS features, which are enabled with the optional GPS module.
Click here to add the GPS module to your shopping cart.

[Disclaimer] Infiniti dedicated power cable is NOT compatible with QX30
UNAVI offers a 1-year manufacturer's warranty from the original date of purchase. The device's accessories, including the SD card, has a 6-month warranty. UNAVI shall not be held liable for any accident, injury, death, loss, or similar claims related to or resulting from the use of this device.

How to Install:
Find nearby local shops to view installation offers and pricing. If you wanna take help with install, please confirm our

 

UNAVI dealer/installer locater

 

 (Currently, we are updating our dealer locater list)

 

or contact us.

UNAVI systems come with a DIY Installation Guide (professional installation is recommended by UNAVI) (DIY installations have no supply to warranty).
Contact UNAVI (855) 558-6284 or email sales@unavi-usa.com for more information.
Share
View full details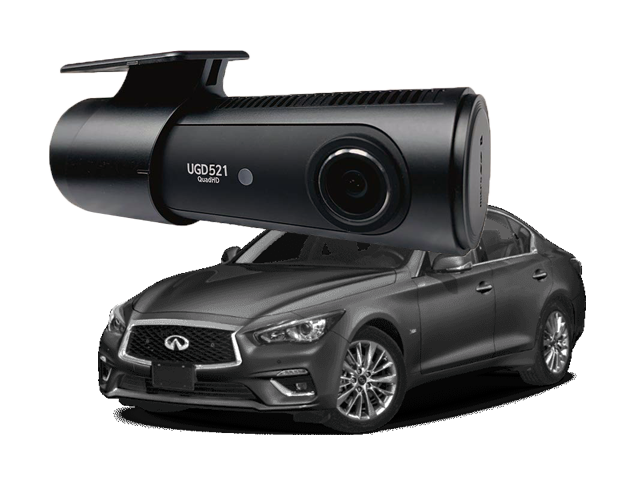 Awesome
One of the easiest dash cameras to down load and view videos from. The videos can be Wi-Fi directly to the phone and sent via email or text. Crystal clear video and audio. Very impressed
Great innovative idea
Most dash cams I've seen require it to be hooked up to the cars battery which makes you tuck wires everywhere. This one plugs in and uses power straight from the rear view mirror, not having to tuck or hide any wires.
Very Good Value!!!
I can't say enough about the Unavi Dashcam. Easy to setup with my 2014 Infiniti Q50 with just alittle bit of patience.
System works as intended with constant power for recording after vehicle shutdown.
So Simple
Unavi made it so simple for me to add a front Dashcams. I honestly can't believe how easy it was to get this up and working.
The system will work perfectly with a 2014 Infiniti q50 sport (non-tech) package.
Easy Install / Great Quality
The install was extremely easy and the setup with the Unavi app was simple as well. The video quality is very clear and frame rate seems good (no jitter). Great dashcam!